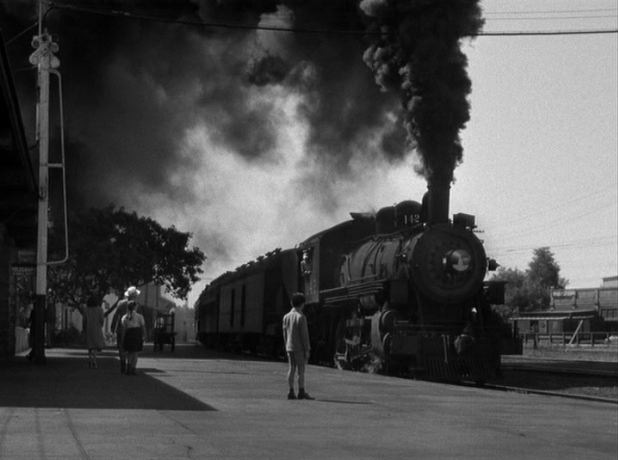 Looking for something to write about (I seem to be temporarily out of ideas) I checked my favorite celebrity birthday site and realized that it was Hume Cronyn's birthday on July 18. A great but underrated actor, Cronyn often played strange, distasteful little men chock-full of neuroses and axes to grind. I don't think I've seen that many of his films, but the ones that come immediately to mind are
People Will Talk
(1951 ) and
Shadow of a Doubt (1943)
, an excellent celebratory birthday pairing if I do say so.
In
People Will Talk
, Cronyn plays a weasley little college professor who, jealous of his colleague's success and popularity, sets out to destroy his reputation and strip him of his medical credentials. Written and directed by Joseph Mankiewicz and starring Cary Grant, Jeanne Crain, Finlay Currie, Walter Slezak, and Margaret Hamilton, the film is full of witty one-liners, thoughtful philosophic insight, and delightful characters. Cronyn's character and the confessions he forces from his victims provide the necessary tension to a film that would be too idyllic otherwise.
Cronyn's character in Alfred Hitchcock's
Shadow of a Doubt
is less cruel, but far more disturbing. Next door neighbor to the Newton family in peaceful Santa Rosa, California, Cronyn comes over every evening during their dinner to discuss various strategies for knocking off the head of the family. Relishing each gruesome detail, Herbie (Cronyn) follows crime stories in the paper as if murder were something abstract and benign, feeling far removed from their reality in his remote California town. Cronyn plays Herbie as both naive and ghoulish and, though his role is small, it helps to drive home Hitchcock's point that no place is safe, no matter what it looks like from the outside.
If you enjoy Hume Cronyn's particular brand of weird charm, you may want to watch some of his other films, such as
Lifeboat
(1944) with Talulah Bankhead and Walter Slezak or
The Postman Always Rings Twice
(1946) with Lana Turner and John Garfield.